Those that know me well are well aware of my passion for beautiful, well-made clothing. I love dressing up and putting outfits together is a big creative outlet for me. Today, I want to tell you about one of my favorite pagan friendly designers, Kerrie Kordowski of Opal Moon Designs.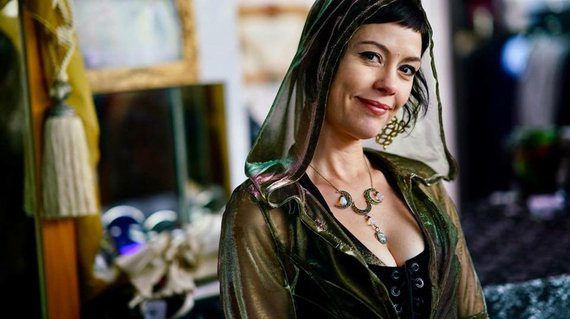 I first saw Opal Moon Designs at the Northern California Renaissance Fair a few years ago. I was struck by the deep colors, rich fabrics, and intricate designs. I later connected with Kerrie over Instagram and we've stayed in touch through Pantheacon and email. This is the first post in a series I'll be doing that features female owned, pagan friendly, small businesses.
I sat down with Kerrie (virtually) to find out what inspires her and to find out a little more about the story behind Opal Moon Designs.

How did you decide to start Opal Moon Designs?
Well, it's actually a long story– are you ready? 😉 I started Opal Moon Designs as a jewelry company initially. I was making gemstone and sterling silver beaded jewelry. I loved the heavy tribal look, which inspired me greatly to start Opal Moons in the first place, while I was living in San Francisco, CA. However, I was always looking to fuse sci-fi fantasy elements into my look, that was inspired by the city's electronic & Bellydance scene, along with favorite films that I adored.
To go way back to 1999, I started Opal Moon to satisfy my creative side while pursuing a career in nursing. I am originally from NY, and straight out of high school I went into a 4-year nursing program, got my BSN/RN, and went straight into hospitals to work. I found that I was not fully satisfied as an RN. My heart was missing something. After 10 years working as an RN in many fields of nursing, I decided to follow my heart. My passion was design/art and I just had to find a way to be creative and support myself while doing it. Leaving nursing was hard for because of it's solid weekly paychecks, but I had a calling to do something more.
I had to take a huge risk, which was scary. I wanted to create things of meaning and empowerment. I wanted to create wares with intention.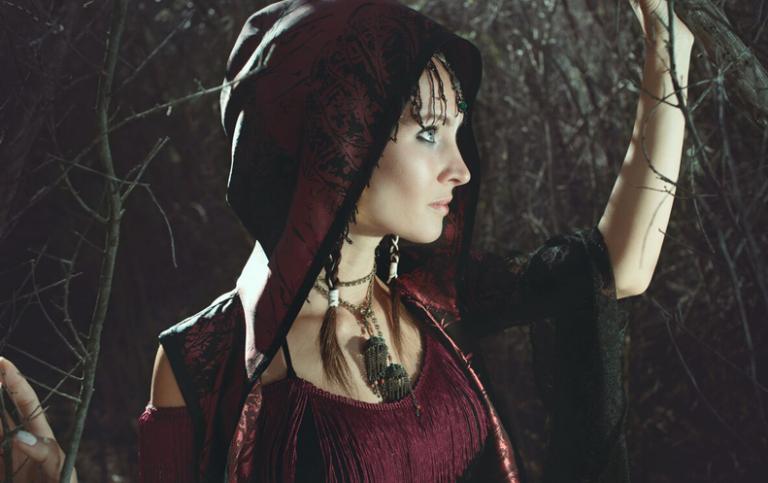 While doing jewelry, I also started sewing on my own time, creating my costumes for nights out on the town in San Francisco. I also did street fairs within the underground music scene there from 1999-2004 or so… mainly selling jewelry and some clothing. All designs were one-of-a-kind pieces. After doing this for a few years, I decided costume design was truly where my heart was.
Costume Design is storytelling. (to clarify from Fashion Design). I loved creating moods and characters within my designs. From there in 2004 I decided to pursue this and went back to school- to FIDM- The Fashion Institute of Design and Merchandising in SF. I achieved an AA degree in Fashion Design, and then graduated onwards to another AA in Costume Design. I had to relocate to Los Angeles to do this costume program, because it was only offered here, in 2005. From there I finished the program and pursued film as a costume designer. It took a lot of years of working for "free" in film, to get your experience, in order to move upwards and onwards to the "big" productions. I did this for 10 years, all while pursuing my one of a kind clothing designs on the side, still selling at very small street fairs and festivals while doing films AND nursing still to pay the bills. It was a very hectic time. However, I still had the calling to fuse costume elements with every day/lifestyle wear. Garments that could go either way: Costume, Ritual, Ceremony, or just any day…I kept this in mind all along.
After working in the film industry as a costume designer for 10 years, I just wasn't fulfilled, and had to come to a decision: I had to choose between film/industry projects OR Opal Moon.
I chose Opal Moon, because it is way more creatively fulfilling, and just plain, important.
To empower women (and now men also), on a daily basis, is way more important than any film or TV show in my world. In addition, to note, supporting the transgender community also, is a priority on my list in regards to my design moving forward.

Your designs are very magical, what inspires you?
Hmmm.. there's a lot 😉 I'm chiefly inspired by nature, ancient mythology, medieval history/costuming, and science fiction/fantasy storytelling, therefore, I describe my style as "Tribal Sci-Fi". To further develop my designs, I include my personal experiences in film, electronic music & daily rituals. In regards to costume design: my designs compliment *awakened* performers of all types -on or off- the stage. Used more simply, pieces are extremely versatile so they can be worn by anyone who desires fashion-forward style for day or evening.

With this, I came up with my motto:
Opal Moon Designs = Threads to Transform Your Spirit
Each garment and/or costume is handmade in downtown Los Angeles, and therefore proudly made in California, USA. I make sure each piece is not only created with superb quality and craftsmanship but labeled either "One-of-a-Kind" or of a "Limited Edition" to ensure genuine originality, beauty, strength, form, and function. Quality and sustainability, while also keeping our economy strong, is very important to me.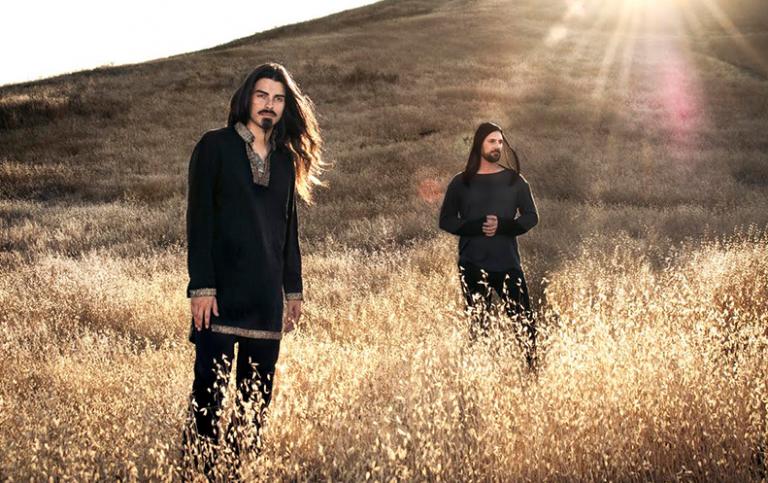 How do you get the vision for new pieces?
My visions come so easily to me. Gratefully, I am inspired daily by nature (I love hiking! Since I've moved to the west coast this is a major thing- in the mountains, or desert canyons are my favorite), visuals (film/art), emotions, magic, and the moon greatly sway me to each next collection. I am also moved by simple things like colors, seasons, energy, love.. just to name a few more! Lastly, I am a Cancer, a water sign, and know this has a lot to do with it. Passion, through emotions, is what has kept me creatively moving so fluidly over the past 10 years, and I am thankful it is so inherently abundant.

What is the most challenging aspect of running a small business as a woman?
Wow, that's a tough one to answer, because there are so many! So, I'll just focus on the most prominent concern at the moment: I believe that a lot of women, inherently feel like their power has to come from somewhere or someone else. So often, I hear women say "I could never do that." or "Who taught you to do this?"
Ladies, you CAN do this and you CAN teach yourself.
You just have to be willing to struggle for a while. You have to allow yourself to fail sometimes. I initially founded my business from the ground up, because I not only wanted to but I "needed" to. There was a driving force within me that I could not explain, so I trusted in it and took all the risks on my own. It's scary doing something like this when you don't have support like additional/safety funding, coming from elsewhere/ other than yourself. I have funded my business from the ground up (no investors, totally independently), and it wasn't easy- I had to use my nursing career at the time (while going back to school at the same time) to get things going. From there it just takes steady passion to keep pushing forward, and trusting in it, despite mishaps and disappointments.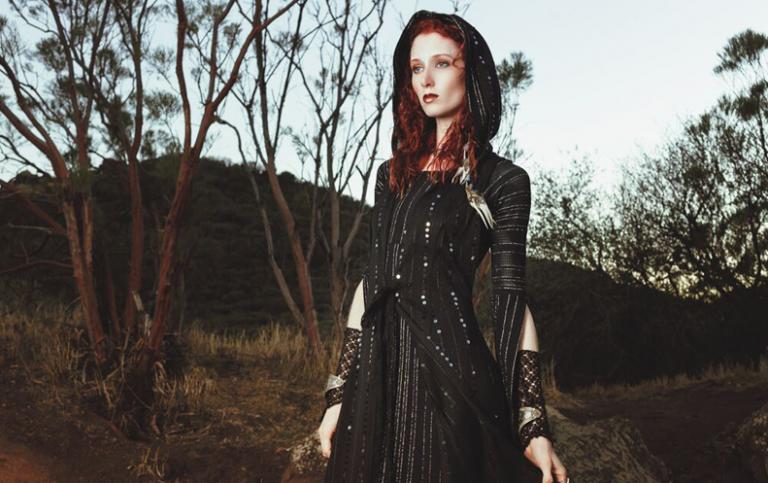 We, as women, have a lot to contend with on a daily basis these days, and I feel, it's important, most of all, to follow your passion, to find your bliss. So many women still don't know how to do this, they can't think for themselves, they still follow the archaic patriarchal path, and/or are guided by their parent's decisions/money. This is something that needs to change and I'm so happy to see women are finally stepping up to the plate, and creating their own destiny. I am happy to call myself a leader on this front and am happy to encourage and inspire those around me.
You can find Kerrie and Opal Moon Designs at the links below: